"I work with each student to help them realize their musical desires"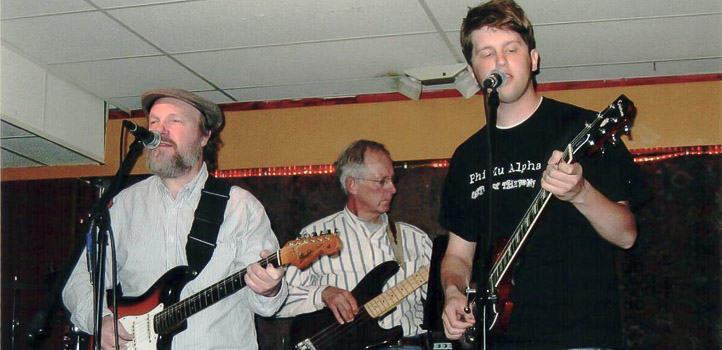 "John Lake has been my teacher since I started playing bass guitar nearly ten years ago. He is a gifted musician and performer in his own right, and also has the rare ability to help both younger and older students like myself be the best they can be.
I highly recommend him for anyone who wants to learn their instrument in a positive and engaging way. His studio is conveniently located five minutes from downtown Iowa City."
"John can figure out any song you bring to him and teach you how to play it just like the original. I was an older student and had to unlearn some bad habits to progress.
And even though I sometimes had little time to practice between lessons, I learned many new skills."
"John is a master of many styles. His teaching is student centered and geared to live performance. His ability to sing lead or harmony is a tremendous asset.
I have always found him to be patient and generous with his time. I don't know why anyone serious about guitar would learn from anyone else."
"In just two years, our daughter has truly fallen in love with her instrument and plays it with great joy every day. John makes students feel like they are part of a band so they want to perfect their part of the songs.
We miss John as we have now moved out of the state and are struggling to find someone of his caliber."
"When I was looking for a guitar teacher for my daughter, I contacted a University of Iowa professor of jazz studies and a University of Iowa professor of guitar. Both recommended John Lake.
My daughter has studied with John for 5 years and continues to make great gains with him."
"I would pick songs on my own and ask if I could try them out. Sometimes I even got to practice with the band and perform at the end of the year.
John made the simplest songs interesting and fun, and the complicated songs he adjusted to my ability so that nothing seemed too hard."
"John Lake is an amazing guitar teacher because of his vast musical talent and many years of professional teaching experience.
John makes me feel comfortable asking questions and trying new approaches, and he graciously accommodates my busy, changing schedule. John is a kind, genuine person who makes growing as a musician as easy as it can be."
"My son, Jonah, is eleven and John is his third guitar teacher. John has been Jonah's guitar teacher for the past year and a half and is his second guitar teacher after moving to Iowa City, IA.
The repetition and varied, but focused work, on specific musical pieces allows Jonah to perfect his skills and knowledge while gaining a sense of accomplishment as he hears his playing improve. I am very pleased with Jonah's progress while working with John."
"Inspired by Taylor Swift, the only gift my daughter wanted for her 7th birthday was a guitar. That was 3 years ago, and we couldn't be happier with her progress.
John's lessons are a good mix of technique, learning to read music, and learning to play songs. And The Mill student recitals provide the opportunity for her to show her progress to friends and family." (See Annika's performance)
"I have been John's student for 7 years and have enjoyed every lesson. John caters to the student's likes and needs. He can break down any music into simple steps appropriate to the student's level and makes learning easy and enjoyable.
The icing on the cake is the student recital, when we get to play live music like we were part of the band. It is an amazing experience."
"We wanted a guitar instructor for our son who would teach him the fundamentals of guitar, but also keep it interesting for him. John met the bill. Our son has developed the aptitude to break down and learn pieces on his own.
John also develops self-confidence in his students by teaching them to be performers. The Mill student recital is a great experience for our son and fun for us!"